Editor's Note: Because of next week's Thanksgiving holiday, we will not be publishing our usual weekly market report update on Thursday, Nov. 26. Requests for the data itself should be sent to press@zillow.com, and we look forward to resuming our usual publication schedule the week of Nov. 30. We wish everyone a safe, relaxing and enjoyable holiday!
……….
A market defined by intense demand for relatively tight supply pushed both month-over-month and quarterly home value growth to levels not seen since 2005. And sales and price growth are expected to remain elevated well into 2021. Rent appreciation, meanwhile, is steady in many Midwest and Sun Belt cities, but still declining in major coastal metros.
Monthly Home Value Growth Matches 2005 Levels
The typical U.S. home was worth $262,604 in October, up 1% from September — the fastest monthly growth rate in 15 years and fifth-highest recorded by the Zillow Home Value Index in its 24-year history (monthly growth in June, July, August and September 2005 was higher). U.S. home values were up 6.6% from October 2019.
Home values were higher in October than September in all 50 of the nation's largest markets. Monthly growth was faster in October than September in 34 of the top 50 markets, was flat in 13, and slowed (but was still positive) in 3: Las Vegas, Los Angeles and Riverside.
Home values expected to grow another 7.9% over the next 12 months
This outlook is more optimistic than last month's: In September, we expected a 7% increase in home prices through September 2021.
In October, quarterly ZHVI growth was 2.6% — the strongest three-month growth recorded since 2005.
Home sales will remain near their current, elevated levels well into 2021
In October, there were 6.85 million sales of existing homes (at a seasonally adjusted annualized rate — the number of homes that would sell in a year based on that month's sales volume), up 26.6% from October 2019 and the strongest level since 2005.
We expect this torrid pace to moderate slightly but remain elevated over the next year, averaging 6.42M through September 2021. That would mark the strongest 12-months for home sales since 2006.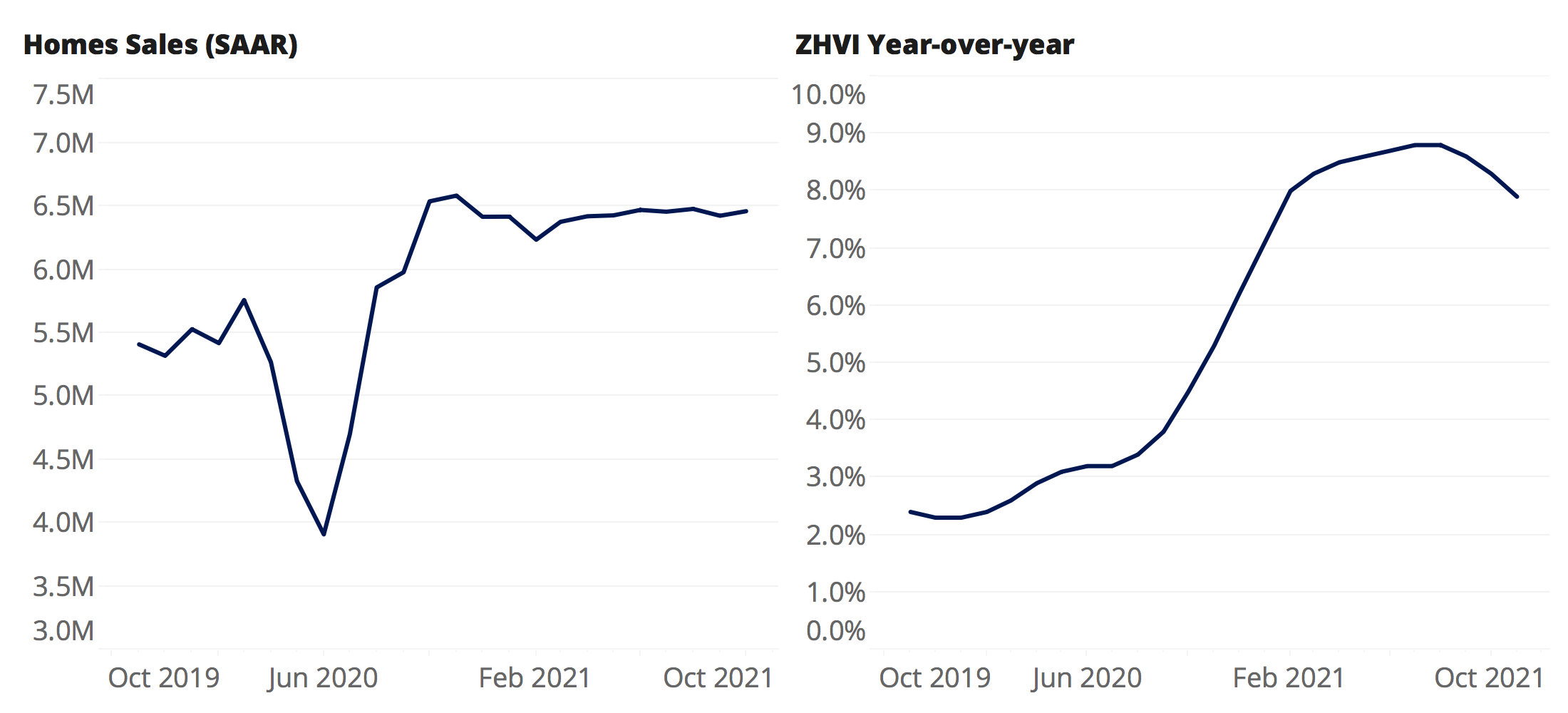 Strength in the for-sale market coincides with continuing weakness in the rental market
Typical U.S. monthly rent was $1,751 in October, down 0.1% from September. U.S. rent was up just 0.9% from the same month a year ago — annual growth was 3.4% in October 2019.
Rents fell year-over-year in several large, pricey coastal markets including New York (-8.1%), San Francisco (-6.9%), Boston (-5%) and San Jose (-4.2%).
Among the 50 largest U.S. metros, monthly rent growth was highest in Providence (2.2%), Phoenix (1.6%), Las Vegas (1.4%) and Riverside (1.3%). Year-over-year growth was highest in October in Memphis (9.5%), Phoenix (8.2%), Riverside (8.1%) and Providence (7.5%).
About a third of rental listings on Zillow advertised some form of concession in September, roughly double the level at the start of the year — an indicator of the weakness in the market and the struggle for landlords to attract and keep tenants.

Still, the concessions appear to be working, especially for younger renters: Almost half of Gen Z renters that moved recently said they were motivated to do so because their new rental offered promotions or concessions.
Pending Sales Activity Slowed Last Week, But Remains Well-Above 2019 Levels
Market stats from the week ending Nov. 14 show pending sales slowing late in the season, dropping 3.6% week over week, but still up a substantial 14.5% compared to 2019.
Although new listings are coming online faster than they usually do in November, the decline of available inventory that began in early June continued, down 1.5% week-over-week and 33.3% from the same time last year.
Methodology
The Zillow Weekly Market Reports are a weekly overview of the national and local real estate markets. The reports are compiled by Zillow Economic Research and data is aggregated from public sources and listing data on Zillow.com. New for-sale listings data reflect daily counts using a smoothed, seven-day trailing average. Total for-sale listings, newly pending sales, days to pending and median list price data reflect weekly counts using a smoothed, four-week trailing average. National newly pending sales trends are based upon aggregation of the 38 largest metro areas where historic pending listing data coverage is most statistically reliable, and excludes some metros due to upstream data coverage issues. For more information, visit www.zillow.com/research/.
Click here to read past editions of Zillow's Weekly Market Report.